Patch Notes [11/25] - Metal Revolution
2021.11.24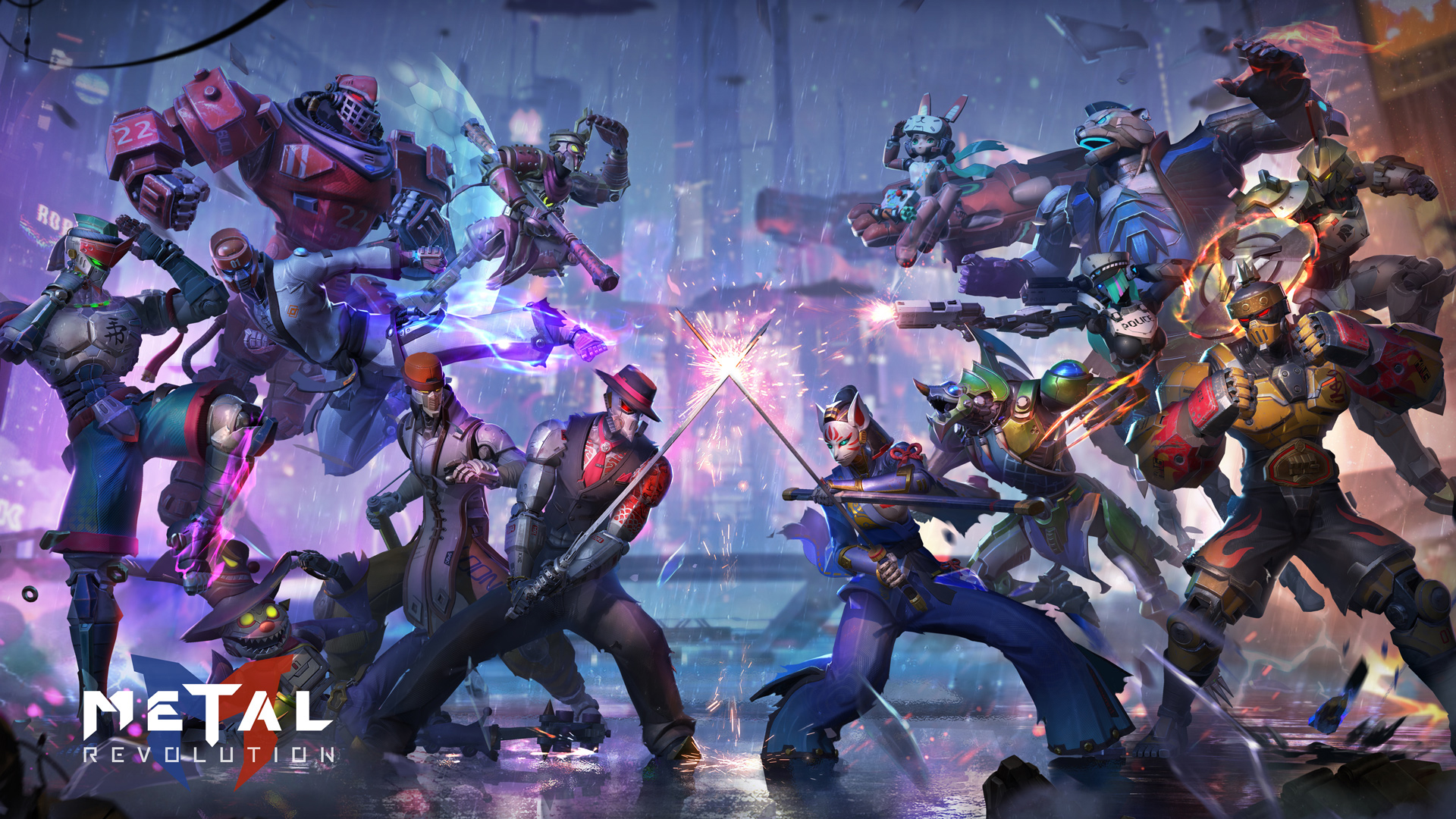 Dear Revolutionaries,
In order to ensure stable server operation and service quality and to deliver a better gaming experience, the Metal Revolution server will be out of service for maintenance on November 25, 2021, at 5 a.m (GMT-3). If the maintenance is not completed at the designated time, the server re-opening time will be postponed. We apologize for any inconvenience this causes for our Fighters.
[New Content]
New Mecha: Catalina Gomez
1. New Skins: Jamal - Vajra Parrot, Catalina - Twilight Guard, Catalina - Royal Warrior, Catalina – Kunzite Blade, Catalina - Roman Gladiator, and Xophi-IX – Wild Rose
2. New Stage: The Octagon
3. New Jamal emoji pack choice chest
[New Events]
1. Fission sharing event
- Share to get gifts for you and your friends
[Tournament]
1. Tournament Registration Time:
- Challenge the Master: 11/29–12/2
- MCL: 11/29–12/5
[Combat Adjustments]
- Block Counter cost reduced to 1 Energy slot and knocks up your opponent.
- Down+X Parry can be used consecutively.
- All characters' Small Ultimate damage has been raised, but damage modifications will also be calculated.
- Refined invincible frames. Invincibility frames against air, earth, waves, throwing, Small Ultimates, Bursts, etc. reduced to due to invincible frames canceling each other out.
- Increased the forward speed and distance of Normal B and reduced stiffness from received blows.
- Increased Burst weakness and reduced Energy recovery speed by 80% for the 30s after Burst. Includes 2nd turn.
- Shortened the invincibility time of 3-Bar Supers and Small Ultimates on the surface.
- Reduced all characters' invincibility time after Burst.
- Down B increased to be able to penetrate waves.
- Adjusted Jump height of all characters.
- Adjusted hit hardness of Jump X and Normal Attack 1+Down X of all characters against opponents.
[Mecha Adjustments]
Gindy Connor
- Added a new special move (Down+X in midair).
- Re-formulated Jump Y and 3-Bar Supers.
Ted Graham
- Adjusted Y, Up+Y, and Jump Y.
- Adjusted 3-Bar Supers and increased Hit rate.
Ethan Ledger
- Adjusted Down+Y, and Ethan can now set up 2 bombs on the ground.
- Adjusted Jump X.
- Adjusted Jump Y, and enemies will be juggled after being hit with Jump Y.
Trishula
- Adjusted Up+Y, Down+X, Jump Y, and Down+Y.
- Increased ability to break through Blocks.
Mike Lee
- Decreased the damage of all Y special moves.
Justitia
- Adjusted Up+Y, Down+Y-Y and Up+X.
- Adjusted Attack frame of 3-Bar Supers.
- Increased combo flexibility.
Miyamoto Ren
- Adjusted Y, Jump Y, Down+X, and Up+X.
- Adjusted 3-Bar Supers.
- Increased combo stability.
Inari
- Adjusted all special moved and canceled the Assault attribute.
- Increased character flexibility.
Kong
- Increased the Up+X recovery time.
- Increased the Up+Y recovery time when blocked.
Kim Woo Ryong
- Solved the issue where 4X was unable to combo with 3-Bar Supers when the player was in a corner.
Xophi-IX
- Increased the Y (including Charge) and Jump Y break amounts.
[Improved Experience]
1. Improved player search function.
2. Improved Core Missions, which are no longer tied to seasons.
3. 2 new areas added to the Game Hall: Unlimited 2 & Unlimited 3
4. Improved the horizontal scrolling text display function.
- Players can turn off horizontal scrolling text for other players' Treasure wins in Settings.
- This feature does not block announcements.
5. Added some Mecha combo tutorials.
[Resolved Issues]
1. Fixed the issue where North American and Southeast Asian players' time differences were not imported when the 2v2 function was on.
2. Fixed the issue where quitting the game in the middle of a battle would prevent achievement progress from increasing.
3. Fixed the issue where Core Levels would not reset after being re-purchased.
4. Fixed the issue where matching could still take place out of 2v2 opening hours.
5. Fixed the issue where the "You've logged in too frequently. Please try again later." message would continue to display after re-logging in to the game.
6. Fixed the issue where Mission missions could not be completed.
7. Amended some description errors in the text.
Caution
All accounts employing plug-ins, accelerators or other third-party software in-game for cheating purposes will be caught via back-end monitoring and penalized through deduction of the benefits gained through cheating, or freezing or closing of the account. We ask all Fighters to help us maintain a healthy and fair gaming environment. If you notice any abnormal activity, you may contact our Customer Services in Privacy Settings.
We'll continue improving this version to bring you a better gaming experience. If you have any questions about the game, please get in touch with the community or Customer Service. We're here to help.
Metal Revolution Consortium
11/25/2021