#MetalMentor Recruitment - Metal Revolution
2021.12.10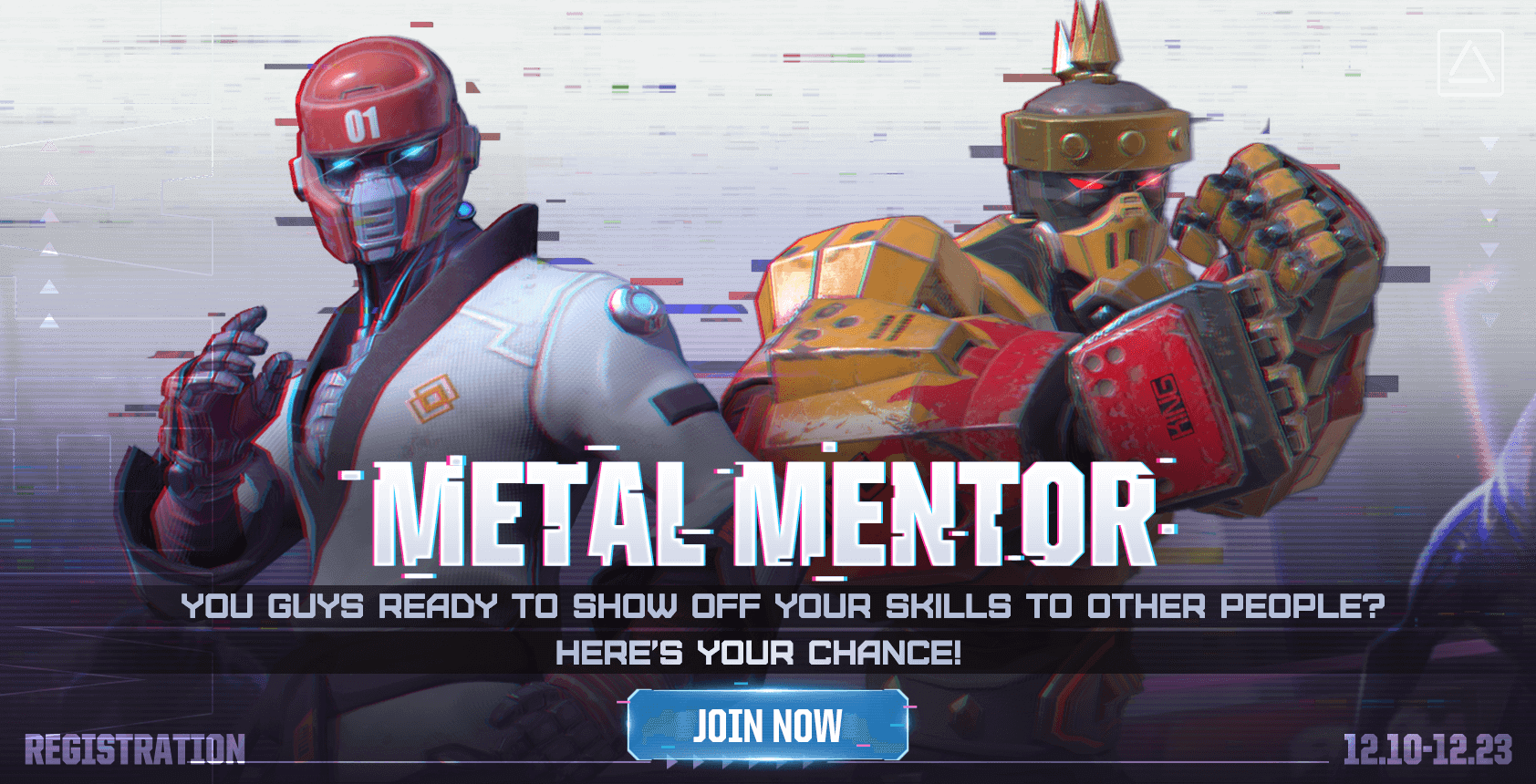 Hey Revolutionaries! Hope you've been doing well.
You guys ready to show off your skills to other people?
Here's your chance!
Start a channel, share some videos.
Not only will you get people to admire your badass fighting skills, but there's also a chance you'll win all skins for a specific character!
Stage 1 - Picking a Mentor
In order to give the best Revolutionaries a chance to pass down their skills, we'll officially begin the Mentorship Program. We'll begin with two characters that have been the most popular amongst players – Jamal Ritter and Kim Woo Ryong. Once elected, the mentor will obtain great rewards, following with an exclusive training plan. Here are the event rules below!
[Registration Time] December 10-23
Registration Form: https://bit.ly/3rP6XbT
[Requirements]
1. Use the character Jamal Ritter or Kim Woo Ryong at least 50 times.
2. Make a strategy video about the character and publish it on Youtube, with the tag #MetalMentor and the character tag, either #JamalRitter or #KimWooRyong.
3. In the registration form, fill out your game ID, account name, avatar and the Youtube link to make your submission.
4. We will review the videos submitted, and calculate scores based on the amount of views and likes each video has. The Top 2 videos (one for each character) will successfully become mentor candidates.
[Rewards]
Mentor Rewards: the creators of the Top 2 videos will become mentor candidates for each character. Mentor candidates will be rewarded with all mechas in the game, 20 Legendary Dimension Keys, and their videos will be shared and advertised on our official media.
Top 3-10 Rewards: the creators of the Top 3-10 videos will be rewarded with 10 Legendary Dimension Keys and a skin (Wild Rose).
Participation Rewards: all players who sent in submissions will be rewarded with 20 Epic Dimension Keys.
[Guidelines]
Video recording intro
Stage 2 - The Final Mentor
It's super fun to chat about games and discuss your favorite mecha with like-minded Revolutionaries. With this in mind, we've created an official Discord character channel. In our Discord, mentor candidates can help newbies get used to the game more quickly. New players can get tips and tricks on how to grow stronger. We'll also set up a daily candidate battle, so players can see their skills up close and vote on their favorite candidate!
[Event Time]
December 25-29
[Official Discord]
https://discord.com/invite/metalrevolution
Channel: #jamal & #kim
[Event Guidelines]
1. Mentor candidates will available to answer questions for players in the Discord channel, but also have a daily battle.
2. Players will vote daily based on the level of guidance by the mentor candidates, and their daily battles.
3. The mentor candidate with the most votes at the end of the event will be elected as the final mentor.
[Participation Rewards]
1. The final elected mentor will be rewarded with the exclusive customizable Avatar Frame, as well as all skins of the corresponding character.
2. Players who vote every day will be rewarded with 2 Epic Dimension Keys.
3. During the event, the two mentor candidates will give out giftpack codes to players in the #jamal and #kim Discord channels daily (each candidate has 100 codes).
Stage 3 - Mentor Challenges
Of course, in fighting games, you can communicate through battle! Whether you're satisfied with the end result of the vote or not, you can challenge the elected mentor in the arena. Of course, this is also the best opportunity for mentors to prove themselves. The elected mentor will be invited to participate in the arena from December 31-January 2. Do you think you have it takes to challenge a mentor?
[Event Time] December 31-January 2
Note:
1. This event doesn't limit you to one character, you can make submissions for both characters.
2. There is no limit on the number of videos you can submit. Only the strategy video with the highest scores will be selected for mentor candidates, but all valid video submissions will be eligible for the participation reward.
3. It will take some time for videos to gather views, we hope that players will do their best in supporting each other!
4. Plagiarism and unauthorized editing of other player's videos is prohibited. Violators of these rules will disqualify the player from any rewards.
5. Mentors must participate in all stages properly to receive all rewards.
6. The interpretation rights of this event fully belongs to the Metal Revolution Team.
Metal Revolution Team