Metal Revolution Community League (MCL) - S1
2021.11.03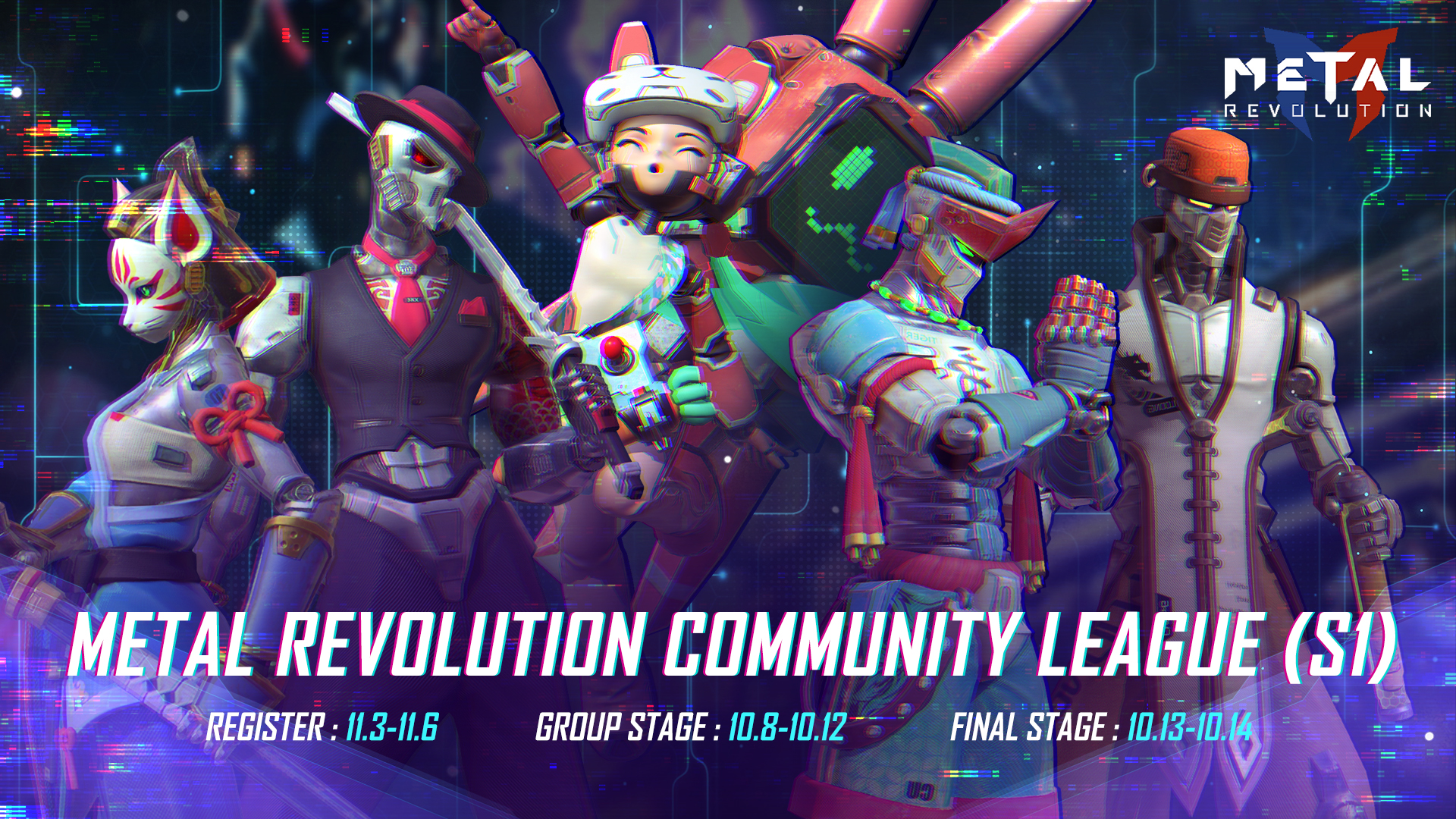 Hey Revolutionaries, the official tournament Metal Revolution Community League (MCL)-S1 will be open from Nov. 8 – Nov. 14. Only 16 teams out of our MR community members can join this grand event. Don't you want to make a name and earn some prizes? Then team up with your friends and sign up for MCL-S1 as soon as possible: https://bit.ly/mrmcls1
Before you do so, make sure you read the following rules:
1. Server and Time
Server: South America servers (Coming to other regions at a later time)
Match times: 7 PM - 10 PM, SA server time. Please be on time for your matches. Not showing up on time will result in a forfeit plus team penalty.
2. Teams
A team leader shall form a team of 4 players (including the leader) and sign up with the designated members before 12 AM, November 7th. However, sign-ups will close as soon as we have 16 registered teams.
Players can join our official Discord and WhatsApp channels to form teams or have discussions.
3. Scheduling
Team leaders must report the order of their participating players and the Mecha they are using before their sets. Matches will be supervised by staff and changes are not allowed during the set. Absences or attempts to change players or Mecha will result in a deduction to the team's total match wins.
4. Round-Robin Stage: Nov. 8 - Nov. 12
Rules: The 16 teams will be randomly divided into 2 groups of 8 teams. Each team will have to play a set of matches against other teams in the group. For each set, 3 team members from each team will play out 3 matches (each player can only play in 1 match). The team that gets 2 or more wins will win the set and earn 1 point. The losing team will not gain any points. For teams with the same amount of points at the end, total match wins will be used as tiebreakers.
Example: ABCD are players on Team 1 and EFGH are on Team 2. Team 1 sends ABC and Team 2 sends EFG to play their set. A beats E, B beats F, and C loses to G. Team 1 earns 1 point, and 2 match wins for the tiebreaker. Team 2 earns 0 points, and 1 match win for the tiebreaker.
5. Elimination Stage: Nov. 13 - Nov. 14
The top 2 teams in points from each group at the end of the round-robin stage will advance to the elimination stage.
Rules: Best of 5, single elimination tournament. In the first 4 matches, each of the 4 players will play a match. For the 5th match, the team will choose one member to play. The first team to win 3 matches will advance. The losing team will be eliminated. An extra set will be played to determine 3rd and 4th place.
6. Prizes
1st Place: 6,000 Gems + Neon Phantom skin (or Legendary skin of the same quality)
2nd Place: 3,000 Gems + Kingpin skin (or Epic skin of the same quality)
3rd/4th: 1,500 Gems + Kingpin skin (or Epic skin of the same quality)
5th to 8th: 1,000 Gems
9th to 16th: 500 Gems
All prizes are for per player and will be distributed after the event has concluded.
7. The tournament schedule and results will be available for everyone to view.
Follow us on social media and be the first to get the latest news and announcements.